Post by hrimturs on Jun 4, 2011 14:11:38 GMT -5
Main Username:
Orias
Name:
Ýmir Hranason
Race:
Human
Age:
17
Gender:
Male
Height:
5'8
½
"
Weight:
160lbs
Class:
Demon 'Dragonslayer' (Although dragons are supposedly extinct)
Current Partner:
[Sparrow Lionheart]
Loyalty:
Shibusen / Self / Friends
Appearance
Standing at just a few inches under six feet, Ýmir sports an athlete's body, with strong, muscular limbs and abs despite his overall slim physique, suiting his lifestyle of frequent streetfighting in that rather than being a meatheaded bodybuilder, he is more attuned towards feats of strength that require some agility and litheness. His hair is short, messy and unkempt, being stark white with hints of grey here and there, with his eyes a mottled yellow.
His regular attire varies from day to day, usually sporting a variety of designer trends with logos and laid-back styles, ranging from tanktops and t-shirts, to
hoodies, cargo pants
,
vests
,
light jackets, and tattered jeans
, and so forth, tending to mix and match things in accordance to his mood though the constant trend leans towards dressing casually. Seeing Ýmir dressed in prim and proper attire is something most would rarely see unless it was a very special or specific situation, such as being mandatory, or yet another scheme to charm his way into some girl's silky undies.
Weapon Form

As a Weapon, however, Ýmir's appearance is far less stylish, effectively being a huge, slab of iron with a handle attached to it, more or less. The blade itself is roughly seven feet in length and a little over a foot in width, whilst being two inches thick. The blade's surface is black and does not reflect anything from, with a dull grey border around its slightly chipped and dulled edge, and the handle is wrapped with a tattered and ragged cloth which is loose near the base.. the actual weight of Ýmir's Weapon form is hard to guess, though it is evident that no normal human could ever lift it, given that even a Meister would deem it heavy despite the synchronizing of Wavelengths.
Personality
Ýmir is a delinquent, very simply put. He slacks off, plays games, peeps on girls, steals panties, looks at pornography, mischievously pranks people, bargains and sometimes even blackmails for minor personal gains, and gets into fights. Most would call him a bad apple because of these actions, though he would more than likely disagree, sometimes even violently. What Ýmir simply does is live on his own terms, passionately and without excusing it to anyone.
By nature he is an incorrigible pervert, and in the most terribly hopeless of sense of it. Prone to letting his frequent fantasies and daydreams of one day 'making it with a woman' get the better of his behaviour, Ýmir is easily misled by his horndog attitude, to the point of unquestionably going along with something at the implication of 'special time' with a woman of any sort. This, in turn, makes him easy prey towards a woman's charms when they are used to directly affect him. He would never stoop to forcing a woman, however, and as a devout 'worshipper of the female form', the implication of someone harming a girl in such a fashion would more than likely cause him to flip his lid.
It is Ýmir's firm belief that there are no 'needless' or 'worthless' people in this world. As a Dragonslayer Weapon, he himself has been told by others that he has no place anywhere, due to there being no more dragons in the world, but he does not believe that what he is has any bearing on his worth as a person. This mentality of his gets applied to other things and people as well, with nothing causing him more ire than to see people squander their gifts and personal ties with people by allowing their personal grievances to overwhelm them.
Believing instead that everybody, whether connected by blood or by friendship, has someone they can count on, and if they do not then it's just because they haven't found it yet, Ýmir is the type who would step up for someone he's never even met if solely based on this principle - and that should someone try to tell them otherwise, nothing short of putting a stop to that person will suffice, regardless of the consequences.
[/b]
[li]Fast-Food
[/li][li]Spicy Foods
[/li][li]Music
[/li][li]Fighting
[/li][li]Easy Money
[/li][li]Girls
[/li][li]Porn
[/li][li]Breasts (All sizes)
[/li][li]Women's lingerie (Preferably on one of the three aforementioned likes)
[/li][li]Soda Rockets
[/li][li]Arcades
[/li][li]Video-Games
[/li][li]The internet
[/li][li]Motorcycles
[/li][li]'Animu and mango'
[/li][li]Hitomi Tanaka
Dislikes:
[/li][li]Stuck-up people/Snobs
[/li][li]Strict rules
[/li][li]Exams
[/li][li]Cheap fighters
[/li][li]Drama, and drama-queens
[/li][li]Bullies and thugs
[/li][li]Sea food
[/li][li]Quitters[/li][/ul]
Hobbies:
Watching pornography

Playing videogames

Riding on his motorcycle

Skirt-chasing
Special Notes
Ýmir lives on Shibusen premises. More specifically he chose to cash in the living expenses of a room in the dorms in exchange for permission to sleep in a defunct storage room on the upper floors of the school premises, having brought in a simple mattress and other personal items, effectively converting the storage room to his own private bedroom with a good deal of elbow grease. He shares this room with a lone white mouse that had made its home there during its defunct period, willingly allowing the rodent to roam the place and steal leftover food from him, casually dubbing the mouse 'The Roommate', or 'Roomie'.
Alongside Roomie, the storage room is also the abode to a vast community of Death City roaches whom, for whatever reason of their own, seem to be capable of speech and intelligent interaction - although they claim that all roaches are capable of this, and it's merely on their own whim that they deign to reveal themselves to someone. The roaches claim seniority to the room, though they seem to have taken a liking to Ýmir, namely through his potency for leaving out unfinished food for them to dine on. They also seem to have a penchant for
singing
and
dancing
..
Vehicles
Kawasaki Z750
(Ground, Civilian, Weak)
Purchased with the money Ýmir gained by cashing in his dorm room at Shibusen, the Z750 motorcycle is Kawasaki's model in the budget class of naked and half faired bikes. It is a smaller version of the Kawasaki Z1000.
The Kawasaki Z750 sports an inline-4 engine, with a capacity of 748 cc and a horsepower of 78 kW. The bike itself weighs in at 498 lbs and has torque of up to 8,0 mkg.
Fighting Style
When in his human form, Ýmir fights like he always has, like a delinquent brawler. He prefers to use his fists, but will pick up a brick, or a pipe or a chair, or any other solid object in the area that can be used as a weapon, provided that his opponents are fighting just as dirty. While reckless and not at all tactically adept, he does have some manner of battle cunning, knowing when's a good time to divide up the targets when outnumbered, if simply for the sake of not getting wasted on the spot.
As a Weapon, though, there is very little style or grace to using him, as his size and weight make him a Weapon primarily focused on smashing whatever is in his path into giblets and pieces with the harsh and unwieldy slab of iron that is his Weapon form.
Abilities
[/b]
(Passive, Strong, Anti-Dragon, Soul, Wavelength)
Like an Anti-Demon Wavelength, Ýmir's Anti-Dragon traits allow for him to be especially resilient towards the abilities of dragons and draconic beings, in turn allowing him to be more effective in breaking through a dragon's defenses. This Wavelength can be extended to a Meister in turn. However, this trait of Ýmir's soul is solely focused towards dragons and beings with a draconic soul, thus making it relatively useless against other foes and creatures such as Kishins and Witches.
Læðingsskrúð
(Passive, Weak, Wavelength-Infused, Binding)
The cloth wrapped around Ýmir's handle can be extended to great lengths. An unbreakable cloth which may also be used to wrap around the Meister's arm, binding them to one another. The stronger the Wavelength between Meister and Weapon, the stronger the bind of the cloth - though should their link be disrupted the cloth will unravel itself from the Meister's arm.
Partial Transformation
(Active, Average, Weapon, Transformation)
Due to the large size of Ýmir's Weapon form, he is not really able to pull off a stable transformation of just the one limb. Instead, he is able to put both hands together and transform both arms into a singular, wide blade below the elbows, reaching about three to four feet outward. The cloth from the handle is also present; loosely wrapped around Ýmir's left elbow.
[/ul]
Resonances:
(If with a partner)

Key Attributes
[/b]
[li]
There's No Way You're That Lucky!!
: It's entirely possible that Ýmir was born under a lucky star, as seems that no matter what rains on his parade, whether he's beaten and down for the count or if everything he does goes completely awry, in the end, one way or another, he lands on his feet, or some manner of silver lining finds its way into the dark clouds. For every hundred mistakes made, there will almost certainly be one big stroke of luck which will turn things around and blow those rainy skies away, a shining light at the end of the tunnel to pick him up when he's down.
[/li][li]
Charismatic
: Whether it's intimidating an enemy, or impressing girls, Ýmir seems to have a natural penchant for getting his words across strongly and pointedly. He tends to speak from the heart, so perhaps such honest expressions are what lend him this type of presence of character. Regardless of the how, if he chooses to do so, he is able to be a charming and smooth person if he puts the effort in, whilst being able to impress others with his strength of character at other times.
[/li][li]
Brawling Delinquent
: Being a delinquent teenager, it is not at all uncommon for Ýmir to be involved in frequent scuffles and fights. As a result of this, he has something of a knack for fighting when it comes to unarmed combat, or at the very least with using whatever's at hand, such as chairs, garbage cans, and the likes. When it comes to street brawls (not restricted to the streets, as dashing through a supermarket lobbing canned beans is just as big a part of a street brawl as any other aspect), as a result, Ýmir tends to be in his element in those types of situations.
Disadvantages:
[/li][li]
Wait, Horrible Luck Too?!
: Despite the fact that Ýmir seems to have the fates smiling on him at the end of the day, if some force out there is looking out for him, then it most certainly likes to toy with him a little bit first, as just about every plan conceived by him, no matter how sound it seems, seems to inevitably have the result of having a wrench thrown into the gears, causing events to escalate into almost ridiculous levels of mishaps and misadventure before the aforementioned streak of luck kicks in. The plan won't have succeeded, but a happy end will likely come about as a result as well.
[/li][li]
Volatile Personality
: Passion is Ýmir's thing. As he speaks first and thinks later, he has a tendency to get caught up in the heat of a moment from time to time. This can have rather debilitating results if he's trying to seem like a genuine person by putting on his charms, only for his perverted tendencies, or delinquent attitude, to shatter all such preconceptions by breaking out into his natural self. This can also result in him being quick to starting fights, or acting out of term, simply because that is how he feels the situation should be handled.
[/li][li]
Girl-Lover/Pervert
: Ýmir is a pervert. There is no mistaking of this fact whatsoever. He loves the female body and is quite often prone to drooling over it - even in the middle of a battle. Should a girl be of generous 'attributes', it's not only more than likely, but rather inevitable, that should he be fighting in his Human form, he will spend more time spurting a nosebleed and chuckling dumbly whilst gawking at a girl's breasts or behind, leaving himself wide open.[/li][/ul]

[/b][/sub]
Strengths:
[li]
Strength
: Ýmir's physical attributes are more than a little impressive, with him able to break through most things with brute force alone. His punches are enough to dent and bust through thin layers of metal such as for vending machines, of which he is similarly capable of hoisting with a bit of effort and German Suplexing the hell out of one in turn.
[/li][li]
Stamina
: Matching his displays of force, Ýmir has the stamina to back it up, usually able to get back to his feet after receiving a thorough beating and recovering rather quickly, he has a strong vitality that'll keep him on his feet until it gets him killed - which isn't all too unlikely, seeing as despite this mass of energy, he will still go down from being stabbed and shot like anyone else. Chances are he'll just stubbornly get up
with
the injuries, is all.
[/li][li]
Determinator
: Simply put, Ýmir doesn't know when to quit. The word 'lose' doesn't appear in his head short of equating it to the word 'die', as so long as he's still breathing he still has a shot at toppling his obstacle as far as he's concerned. This trait serves him well, given his propensity towards getting into trouble, and it's no surprise that most of his physical qualities are a direct result of him crawling his way to the top of the hill with his fists and raw determination.
Weaknesses:
[/li][li]
Unintelligent
: Brains are not Ýmir's strong suit. When it comes to understanding the higher functions of an enemy's skills or tactics, or the implications involved, they tend to fly right over his head. While this does not imply that he is a drooling moron, it does mean that he might rather favor a simplistic explanation that at least does the trick of making sense of whatever it is he's facing, in spite of the fact of the matter that he'll have just barely scratched the surface. Simply put instead of thinking too much about things, he leans towards powering on in ignorance.
[/li][li]
Reckless
: Ýmir is not known for his gingerly approaches to situations. Almost all of his ploys tend to be extravagant and over the top, even the ones that seem logically sound after hearing them repeated back to you enough times to see his end of it. Rushing in fists swinging, acting first and rarely thinking later, those are more in line with his way of approaching combat.
[/li][li]
Determinator ..again?!
: Ýmir really, REALLY doesn't know when to quit. Even when it's in his best interests to just back the hell down from a fight, he'll keep it up until it's the end of him, or at least until he passes out from his injuries and has to be hauled out of there bleeding and broken. If to lose is to die, then Ýmir tests the luck of his winning streaks recklessly whenever he gets into a fight.

-=WEAPON=-
:Strengths

[/li][li]
Devastating Weapon
: As a 'Dragonslayer' styled Weapon, Ýmir is specialized in damage over versatility. Rather than dazzle foes with a flourish of graceful swordplay, Ýmir simply tears through metal, flesh and bone like a cannonball at close range. It is said that the reason for this brutally efficient fashion of doling out damage comes from the fact that a Dragonslayer Weapon's purpose used to be to tear through the armored scales of a dragon and, in the right, capable hands of a wielder, would be used to cleave a dragon's head from its neck with pure violence of force alone.
[/li][li]
Made of Sterner Stuff
: Built to last, Ýmir as a Weapon is far more durable than his Human form could ever dream to be, if not more durable than most other Demon Weapons as well. Damaging Ýmir when in Weapon form is exceedingly difficult, with him able to withstand the sort of attacks that would cause a Weapon physical harm even in their non-Human form. This too harkens to the heritage of the Dragonslayer Weapon, as a dragon's maw would usually mean certain destruction for many caught between its fangs, the Dragonslayer able to withstand this better than others, within reason.[/right]
:Weaknesses

[/li][li]
Cumbersome Weapon
: Due to his large size and weight, Ýmir is an exceedingly difficult Weapon to wield without running the risk of causing massive damage to civilian environs, and allies alike. This also makes him a very restrictive Weapon to be used in confined spaces, which can often gravely limit the effectiveness of his use due to there not being enough room to swing him, or when in a precarious position that requires balance, due to the weight of the swing being enough to throw both the Weapon and Meister over the edge.
[/li][li]
Heavy Permanence
: Ýmir is a heavy duty Weapon. Even with the issues of Wavelengths allowing for a Meister to wield what would otherwise be an impossibly heavy and large sword like Ýmir, the weight is still tangible. Even in the hands of a 3-Star Meister, there is very noticable weight to the Weapon which may in turn slow them down. The end result is a Weapon whose weightiness both compliments its strengths, but also debilitates, as that same weight is part of what makes it so devastating to withstand a blow from.[/right][/li][/ul]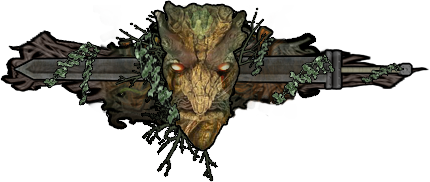 History
Growing up in Iceland, Ýmir was exposed relatively early to the concepts of the monstrous. Old folk tales telling stories of trolls living in the mountains, and of the Hidden People residing in the rock and the stone, the tales of dragons and of Gods all being things taught to children from an early age. This, however, did very little to influence his life, as most youths tend to take such things for granted when faced with the more pressing aspects of their daily lives.
The only son of a single mother, who spent most of her time working just to support the two of them, it went without saying that Ýmir, even as a child, was a troublemaker. Caught shoplifting, pranking old people and teachers, and getting into fights, all the while barely scraping through his education, if not outright failing at other times, the life of a delinquent seemed to suit Ýmir quite well. He quickly made a name for himself in his younger teen years, namely through beating up gangs of much older students - something which, while 'legend' claims was effortless, often resulted in him needing to be rushed to a hospital quickly thereafter his great victory.
Then, around the age of fifteen, things changed. As with most Weapons, the manifestation came as a surprise, and rarely as a welcomed one. In Ýmir's case, it was during a bike race, wherein his arms transformed and he lost control, sending him hurtling off a bridge and into the ocean. The later revelation of the nature of his transformation only served to further alienate him from others, between being considered a freak of nature, and being a mockery due to the fact that 'there are no dragons'.
Despite the revelation of his Weapon abilities as early as the age of fifteen, Ýmir chose not to enlist at Shibusen immediately. Choosing instead to finish his education on his own terms, and solidifying his 'local legend' as an infamous brawler, Ýmir finally left for Death City around the age of seventeen, after a brutal brawl against a chain gang of what inevitably turned out to be a group of budding, though relatively weak by compare, Kishin Eggs. Having defeated thirty of them by blindly charging forward in his usual manner and beating the everliving hell out of them, Ýmir soon found himself sitting on thirty Kishin souls, with the attentions of Shibusen on him. Still initially reluctant to sign up, the inevitable potential for meeting 'cute schoolgirls' and starting fresh lured him over to enrolling.