Post by hudson on May 31, 2011 17:59:53 GMT -5
MAIN USERNAME: Orias
--------------
Name:
Isabeau Hudson
Nickname:
Isa, Hudson, "Hawk-Eyes Hudson"
Age:
280; Looks to be in her late teens, or early twenties
Gender:
Female
Height:
5'6"
Weight:
58kg
Race/Class:
Witch
Witch Anima:
Hawk/Materialization
Loyalty:
Self
Text Color:
Dark Red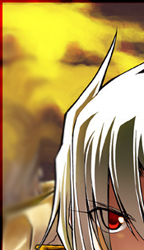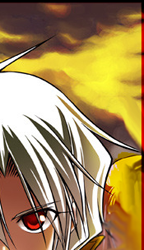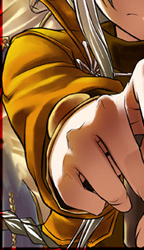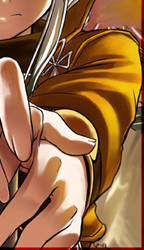 Main Themes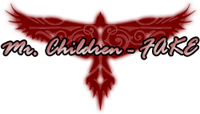 (LYRICS)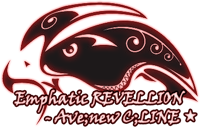 (LYRICS)
Battle Themes
-=SCARLET DEVIL=-
-=CHECK YOUR BLOOD=-
-=ROSE AT TWILIGHT=-
-=ETERNITY=-
-=CHAOZ AIRFLOW=-
-=SUPERNOVA=-
-=MIGHTY WIND=-
-=THIS ILLUSION=-

Appearance

Hudson, like any witch, looks younger than she really is, sporting the youthful look of a young woman just starting on the road to adulthood, her body slender and athletic, whilst retaining a few womanly curvatures to add to her appeal. Standing at roughly five-foot-six when not wearing footwear, Hudson has pallid skin that doesn't seem to detract from her physical good looks all that much, though it still is something many might notice about her. Her pure white hair manages to somewhat reduce the notability of her pale skin, however, with its length reaching just past her knees with two waist-length side-bangs. Whilst her hair is usually braided into a ponytail (which unfailingly sports a blue or red ribbon tied to the end, dependent on her whims), on the occasion that she lets it loose, her hair tends to curl near the ends. The most notable physical feature that Hudson has, however, is her eyes, living up to her nature as the Hawk Witch with a pair of sharp, red eyes like that of a
hawk
.

When dressed as a Witch, Hudson has two particular forms of attire. The first is a crimson, somewhat ornate jacket with a popped collar, with tasseled strings used to hold it together around the collar, the jacket having a similar opening at the back as the front, with two additional sets of tassels being used to hold it together. The length of the jacket's body stops midway down the abdomen, though the arms go the full length, whilst Hudson wears a black, turtleneck shirt underneath it. About her hips, she wears a matching crimson waist-mantle, donned over a pleated gray skirt. With these she wears black or gray (depending on the laundry, one could suppose) thigh-reaching socks and a pair of sturdy, leather short boots.

The second Witch outfit could possibly be called elegant, by some standards, as it sports more expensive and refined-looking clothing articles, such as a black blouse with a high collar underneath a dark red overcoat with a popped collar that stretches down the back between the shoulders, with a string adorned with long, flowing tassels stretched between. The overcoat sports an open window about the chest area, a lace between, just below the coat's collar holding it together, while the overcoat is buttoned around the waist. The area just between the waist of the overcoat and the decorative waist-mantle is partitioned ever so slightly, with the hem of the blouse coming out
beneath the overcoat and over the mantle.
As per her usual style, Hudson wears a pleated skirt and thigh-socks beneath this point, the only notable difference here being that she has changed from short leather boots to a pair of ankle boots that are lightly armored around the shins.
When not outright advertising her presence as a Witch through her attire, though, Hudson tends to dress fairly casually, wearing dress shirts and jackets, most primarily being seen wearing a maroon shirt with a loosely buttoned waist-jacket and slacks. Another alternative that Hudson has to this sort of attire is similarly laid back, wearing blouses, such as the one she wears beneath her Witch attire, and pleated skirts, along with her regular knee-to-thigh sock fashion sense.

Personality:
By her nature, Hudson professes various hawk-like qualities. She is relatively communicative and easily approached for talking to, not minding to indulge in conversation with someone who might be interested in doing such a thing. Usually when she speaks with someone, though, she tends to act rather aloof or haughty, sometimes playfully so even, finding that she often tends to stand worlds apart from other individuals due to her being a Witch, and thus deflecting their advances with her twisted attitude through harsh and complimenting comments alike, though both are generally aimed in a manner that seems to suggest she's mocking that person on a level.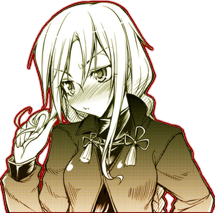 At the same time, she is a very assertive individual, confident of herself and prone to being a little aggressive when it comes to voicing her views on a subject matter. She has a gentler side to her, though it rarely shows outside of private circles or if it occurs to her that her pushy attitude has gone too far and requires smoothing over with an offended party, and even then it is simply due to understanding she is the one at fault.
Hudson also does not like to move very much. Her assertive nature making her stubborn to give up a place she may have called home for decades due to feeling comfortable there. This is also due to the fact that the type of place she feels most comfortable in tends to be high above ground, such as an apartment in a high-rise or as skyscraper; the likelihood of finding another place just as comfortable with the same criteria being difficult to come by.
Due to the balanced nature of Hudson's magic theme, she is not as destructive and chaotic as other witches. While she does not profess to act as a force of good in the world, neither does she attempt to destroy it, being merely content to linger between sides and attend to her own interests. Because the objects her magic creates are doomed to eventually dissolve and fade away, Hudson herself has a fairly pragmatic outlook on the whole life-and-death structure, accepting that eventually everything will die and become nothing, but it will do so on its own schedule and not with her assistance. Similarly, she believes this applies to people as well, in that if someone were to die, then it was simply because that was their time.
This does not mean, however, that she is fatalistic. If someone attempts to attack her and kill her, she won't hesitate to defend herself, seeing it more as a case of testing to see whose time it was to die. If, for all of her efforts to elude it, death would finally find her, then she would accept it as such; but she doesn't treat it like something that shouldn't be avoided if it can be – survival and preservation is a natural part of living just as much as dying is. For that reason, she has no qualms with killing someone if they prove to be an obstacle, or a risk to her own survival. If a person poses the threat of revealing her identity as a witch to Shibusen, she will unerringly attempt to wipe out the threat, preferably in a permanent, lethal fashion.

In the event that this takes place, Hudson treats her enemies much how she treats every other person; with a sort of detached aloofness that borders on condescendence and aggressive self-assuredness, sometimes even treading close to chatty smart-alec behaviour, as if the person she's currently engaged in battle with was always fair game, they just never provoked a response until now, making her actions perfectly justified.
This could just as easily be attributed to her reluctance to connect with others, as she sees herself as a witch rather than a regular person, meaning that killing someone is an occurrence that she isn't unprepared for and is simply another one of those 'natural facets of survival' in the long-term scheme of things. How she might deal with a personal confrontation is something not even she can assess, however, due to her prevalent lacking in making such connections with other people. This lack of social capacity is also prone to affecting her stability as an individual, as over a century and a half of separating herself from most people tends to leave her with conflicting interests of wanting to keep people at bay, but also the natural need for interaction.
Likes:
History, Artifacts and Museums

Private collections (more specifically other peoples' private collections ripe for the taking)

High places

Weapons, armaments (gets very talkative when discussing histories and details of mythical objects, especially)

Music, particularly 'old music' from the early 1900's to the 50's

Tea, preferably Western, though prone to indulging in the more exotic blends
Dislikes:
'Meaningless' Mourning (notably, the excessive misery and mourning of the dead through words like 'he died before his time' or 'why did he have to die?!'. Funeral rites, monuments like sarcophagi, and the natural grievances over the recently departed don't bother her much outside of being minor irritants or curiosities otherwise.)

Leaving her apartment unattended for extended periods of time; to the point that she will be stubborn about leaving town unless she has made arrangements for her absence

Philosophy-driven Factions (This includes both Shibusen and the Coven of Witches, as both act based on their conception of what 'should be')

Rap music

Coffee (Or 'that black sludge' as she calls it)



Hobbies



Visiting museums and private collections; normally she uses her cover as an art historian to gain access.

Reading; particularly a fascination with mythologies.

Cooking; though she's definitely not very good at it.

'Freelance procuring of artifacts'. Or at least that's what she calls stealing them.

[/b]
During her time in hiding, Hudson has established something of a 'home base' for herself, residing on the topmost floor of an
apartment building in Marseilles with a view of the ocean
. Said apartment was paid for with dubiously collected funds from her 'hobby' as an art-thief. As part of her cover whilst in hiding, she employs herself as a freelance art historian, hiring herself out to museums and collectors alike.[/ul]

Fighting Style:
Hudson tends to utilize a long-to-close range tactic of combat. Using her Materialization magic, she will at first attempt to weaken or distract her opponents with a series of ranged strikes using materialized weaponry such as swords, spears and the likes, utilizing her ability to treat her materializations in a similar manner as she would a broom to momentarily propel them forward; thus launching them in a straight line.
By using wide-angled attacks to goad a target into deflecting volleys and leave their guard open, Hudson keeps her enemies off-balance from a distance, before using whatever object she is flying upon to dive at her target, moving in on them much like how a hawk might swoop down on its prey, and engaging them in direct combat with her weapons. Due to the lack of strength that her magic has in terms of long-term durability, Hudson prefers to utilize fast and precise strikes rather than those of physical strength, having very little in terms of brawling durability herself.
Preferably, being able to score hits and then take to the air is her tactic of choice, though should she be forced to remain grounded, she will adjust the aforementioned tactic to function in a similar fashion, using launched materializations whenever at a distance, and swapping to close quarters as before. In the event that her quarry does not allow her to utilize this tactic, instead imposing a close quarters combat scenario, Hudson will rely on her speed and balance to elude taking damage, circling her enemy with pirouettes, rolls and footwork whilst parrying and gauging for openings*. In order to confuse her enemy whilst doing this, Hudson will sometimes swap between materialized weaponry midway, so as to keep her opponent guessing which weapon she will use next.
*
Example 1: Fighting with two bladed weapons.
Example 2: Fighting with one bladed weapon.
[/b]
(Active, Strong)
(Magic)
Hudson's magic lies in the materialization of objects by taking her mental imagining of something and creating a solidified replica of that image by channelling her magical energy and using it to materialize the imagined object into being, through a combination of compacting atoms into a solidified mass and using magical energy to manifest and replicate the object's nature and attributes. The name Gradation Air stems from the concept that the materialized object is being created from 'out of thin air', essentially, whereas Gradation refers to the temporary nature of the materialized object. While physical manifestations, materialized items are still technically 'items that do not exist' and thus suspect to rapid decay by their very nature through the unravelling of their molecular makeup. As a result, the materialized objects degrade and eventually fade into nothingness again.
A materialized object has all of the properties of that which Hudson imbues upon it, provided that she is capable of imagining and maintaining such an object in her mind. The more complete the mental blueprint of the object is the more powerful and capable it is. The more perfected and faithful the materialized image, the longer it will hold out. For example, if imagining a contradictory object, the less likely it is to maintain its solid form due to the fact that Hudson herself cannot rationalize its existence and abilities. As a result, Hudson might be able to materialize a singular sword by understanding the principles and blueprint of creating one, but she would not be able to materialize a 'sword made of fire' due to having no means to rationalize the existence of such a weapon.

In this regard, if Hudson has created an object herself, due to her intimate knowledge of the procedure and the object's blueprint, she can create a completely faithful replica of the item in question. In extended theory, if an object's creation method is known to Hudson (such as the method of forging a sword), or she has a basic idea of the rudimentary facts of the object (like its proportions and weight) it would technically be possible for her to materialize a weapon on-sight, though said weapon would be substantially lacking in quality compared to a perfected materialization.
This power also stretches towards Demon Weapons, although it requires a more intimate knowledge of the 'blueprint' of such a weapon. Because Demon Weapons aren't forged, they have no building process through which to conjecture the mental image. On top of this, they also have souls, which Hudson cannot reproduce. Thus, for Hudson to materialize a Demon Weapon the following parameters must be achieved by her; Firstly, she needs to have held the weapon, or at least have made enough physical contact with it in order to understand its proportions, weight, and other material aspects. Secondly, she would need to have knowledge and understanding of the Demon Weapon's wavelength in order to properly reproduce its abilities.
Even with these parameters, however, the materialized weapon will still be lacking in a soul, requiring Hudson to utilize her own soul as the substitute wavelength, and her magical energy to reproduce the abilities of the weapon through that wavelength. Not only is this procedure complex and difficult to get down, but it is also taxing and uses up a large amount of Hudson's magical energy, making it relatively unfeasible to use short of being an 'all or nothing' tactic, as chances are she'll be almost completely tapped out of magical energy from doing this.
The resulting materialized weapon will thus be inferior to the original Demon Weapon it was based upon, both in terms of physical structure, and the use of its abilities. On top of this, due to the gradating nature of Materialization, the unique and complex nature of a Demon Weapon only hastens the rate at which the materialization falls apart.
Another venue possible with Materialization is the concept of altering the imaginary blueprint of an object. By tweaking the shape, or the nature, of a materialized object, it can become something else; a sword might become an axe or a spear. A lance could become an arrow or a chain-weapon. However, at her current capabilities, this degree of Materialization is beyond Hudson's reach. On top of this, the unpredictable results of tampering with the contradiction within the Weapon's metastructure could result in the materialized object becoming catastrophically unstable.
The time-limit of each materialization is as follows;
[li] Perfected Materialization:
100% Replication; Retains 9/10ths of the original concept's power and durability;
Indefinite Gradation (Until Thread Ends or Dismissed)


[/li][li] Familiar Materialization:
85% Replication; Retains 8/10ths of the original concept's power and durability;
Prolonged Gradation (Approx. 30 posts)
[/li][li] Standard Materialization:
70% Replication; Retains 7/10ths of the original concept's power and durability;
Extended Gradation (Approx. 20 posts)
[/li][li] Average Materialization:
55% Replication; Retains 6/10ths of the original concept's power and durability;
Moderate Gradation (Approx. 10 posts)
[/li][li] Low-Grade Materialization:
35% Replication; Retains 5/10ths of the original concept's power and durability;
Advanced Gradation (Approx. 5 posts)
[/li][li] Imperfect Materialization:
20% Replication; Retains 4/10ths of the original concept's power and durability;
Drastic Gradation (Approx. 2-3 posts)
[/li][li] Unstable Materialization:
5% Replication; Retains 3/10ths of the original concept's power and durability;
Instantaneous Gradation (Lasts one post)[/sub]
NOTE:
Even though a Demon Weapon can be materialized to almost 70-85% perfection, due to the unstable molecular structure of the materialized object, the weapon will still only last 2-3 posts at best. Anything below that perfection rating will suffer Instantaneous Gradation and vanish immediately after a single use.
****
Materialization Magic: Current Mental Inventory
(Active, Weak~Strong)
(Magic, Melee, Ranged)
Over the course of her life so far, Hudson has procured various weapons and items that she has taken the time to study and take into account for her Materialization magic. Though she can easily create a score of standard issue weapons on the spot, these are all ranked as Low-Grade and Imperfect Materializations and are thus simply used as diversionary or basic attack methods. The following mental blueprints are all ranked as being Average Materialization and above.
Yatlass Blade
[/li][li]
Normal Weapon, Perfected Materialization
(Weapon, Average)
A plain yataghan/cutlass hybrid that Hudson has had in her possession for the duration of over a century and a half. One of the few weapons she actually purchased, it is a well-balanced and durable weapon in its own right, and her familiarity with it and evident fondness of the weapon brought about through constant use throughout the years has left its mental blueprint firmly engraved in the back of her mind. It is, however, still a mere, normal sword and is thus subject to the same limitations as one.
Trishula
[/li][li]
Normal Weapon, Standard to Familiar Materialization
(Weapon, Weak)
A personal favourite of Hudson's are the trishula, on account of the significance of the weapon's three-pronged form and associations with creation, maintenance and destruction, which bears a correlation with her own magic. While not perfect in materialization, the simplistic shape and concept allows Hudson to produce various faithful adaptations of the weapon's form in order to create more than one at a time, often utilizing trishulas in this manner as a form of ranged attack by hurtling them at an opponent. Much like the Yatlass, however, the trishula is still a normal weapon without any abilities and is thus of no threat to those who aren't affected by such things.
Sköfnung
[/li][li]
Wavelength Weapon, Average Materialization
(Weapon, Strong)
A mythical blade from Norse stories belonging to a legendary Danish king. It was said to pertain supernatural hardness and sharpness, having been imbued with the spirits of the king's 12 faithful berserker bodyguards. Not a Demon Weapon in itself, but rather a weapon capable of channelling a soul's wavelength through it in order to increase the durability and sharpness of the blade, having the additional effect that a wound made by its channelled wavelength will not heal by natural means. It was buried with its last owner, Gellir, son of Thorkel, in Denmark, until Hudson stole it for herself. Due to the old age of the weapon, Hudson cannot fully materialize it in its original quality, thus detracting from its sharpness and durability.
Gan Jiang and Mo Ye
[/li][li]
Wavelength Weapons, Familiar Materialization
(Weapon, Strong)
Twin swords created by a Chinese blacksmith at the cost of both his wife's and his own lives. As a result, parts of their souls are eternally embedded into the blades, making them married to one another, and thus inseparable from each other. When thrown, the blades will always return to the wielder's hands so long as the wielder is still holding its counterpart. Should both be thrown, they attract each other like magnets, drawing in close.
****
Materialization Flight
(Active, Weak)
(Magic, Flight)
A relatively small alteration to the usual Witch ability of flying on a broom, Hudson instead extends this power towards whatever object she has materialized, allowing her to use materialized objects as her designated mount instead, whether it be an actual materialized broom, a sword, a lance or anything of that sort.[/li][/ul]

Equipment:
[/b]
[li]
(Item, Weak~Strong)
Over the course of her lifetime, and given her numerous encounters with wars, Hudson has learned that in order to not rely on her magic, she needs to instead rely on modern means instead. As a result, she utilized her funds to make a few deals here and there with some arms dealerships to provide her with the various tools she might need. The payment for these tools comes out of her own pockets, and include a variety of things from gliders, plastic explosives, firearms, and so forth, though she rarely keeps any of them on account of the tools either being destroyed in the line of her work, or due to her simply buying in small, stock amounts for her express needs.[/li][/ul]
Key Attributes
Strengths:
Superb Speed – Besides preferring to stay light on her feet and mobile, Hudson also makes use of her flight ability to keep speed on her side, and keep out of striking range.


Excellent Balance – Part of her fighting style requires her to be able to maintain her balance whilst flying, and be able to make maneuvers both in-flight and on-ground with tricky precision and balance.


Armament Nerd – Able to recognize most weapons (particularly historical ones) and come up with a fairly accurate summary/estimate of the armament in question. Most of this accuracy, though, owes itself to her eyesight, allowing her to glean good, close looks at whatever object of interest she's fixated upon.


Great Eyesight – Living up to her nickname of 'Hawk-Eyes Hudson' in more than just appearances, she is able to see details excellently at close-range, and with equally impressive clarity at a great distance unassisted.


Strong Mental Focus – Sort of a given, considering the nature of her magic requires it, meaning she is normally able to concentrate and keep a focused mind, even when under fire.
Weaknesses:
Subpar Physical Strength – Her cuts are sharp, but lack weight of force behind them.


Physically Weak – In terms of going 'blow for blow' with someone, Hudson is at a disadvantage here, being able to 'dish it out' but not 'take it', as she relies on her speed to avoid this.


Psychologically Weak – Whether it's due to the internal conflict of her magic theme, her lacking in social skills or some other personal reason, Hudson is ever so slightly prone towards 'completely freaking losing it' from time to time should things be going fairly badly for her, which normally means that her strategies are falling apart (in spite of her strong focus) during a near-death encounter. Usually, this could be chalked up to her 'survival instincts' kicking in as the form of a 'who cares, so long as I survive, right?' crazy streak. Whatever the case and the cause, Hudson's occasional penchant for becoming unhinged usually has the tendency to either affect her ability to strategize, or her ability to focus enough and use her Materialization magic – or, in the worst of cases, both at once.


Unreliable Magic – Putting it simply, Hudson's magic has potential. However, no matter what she materializes, if it was based on an original object, it will never be 100% as powerful as the original. On top of this, the likelihood of being able to create a 100% replica, even with its downgraded power, is small unless she has time to familiarize herself with it, meaning most of the time the majority of her materializations are subpar and low-grade, making them ill-suited for extensive combat against powerful enemies. On top of this, she usually needs to have a brief moment to make a mental register of what she wants to materialize.


Poor Social Skills – Due to her personality, she can sometimes end up alienating others. In some scenarios, this can cause people to distrust and dislike her very easily. Add to this her stubborn and obstinate personality and you have the beginnings of potential grudges between people.

History:
Hudson was born in Marseilles in the autumn of 1730, conceived out of wedlock between an English nobleman who had moved to France as part of his arranged (and ultimately loveless) marriage of convenience to a moderately wealthy family there, and one of the household's serving girls - though through which of the two the bloodline of a Witch had descended is not known.
As the bastard child of a nobleman, it was imperative that she be kept 'out of sight' for fear that the lady of the house would realize the truth of her husband's affair. And so Hudson, who at the time still responded to her given name of Isabeau, was taught to keep quiet, and to keep her head down. As the child of a serving girl, though, this was never especially difficult; the lower class is rarely seen and never heard, and was thus mostly ignored save for a lone occasion.
Whether it was out of acknowledgment of his paternity, pity or simple whim, Hudson's father had taken it upon himself to tutor the girl on how to read and write, something which, on times whilst accompanying her mother on her duties, allowed the girl to spend much of her time admiring and reading the household's collection of literature, particularly the recorded tales of knights and of legends, solidifying her relationship with tales of myth and lore.
Much of her youth was spent in the household, accompanying her mother, assisting with chores at times, though during all of this time the girl remained quiet and reclusive as per her mother's raising her to be so. As a child, thus, and even into her later years, Hudson never made personal connections with anyone, the closest to which she'd ever come to being her own parents - her father of whom did not acknowledge her existence due to scandal, and her mother who grew more detached by the passing day due to the estrangement between herself and Hudson's father.
These 'happier' days did not last, however. The marriage had been out of convenience and money, and by the time that Hudson had turned the age of 15, the money had been all but spent. Most was embezzled by greedy in-laws seeking to finance the Jacobite rebellions and the invasion of Britain, and the rest lavished by her father's wife until, before long, the homestead was sold and Hudson's father returned to Britain to rejoin his relatives there. Unemployed and homeless, Hudson and her mother was cast to the streets of Marseilles to survive and make a living there.
Life in squalor, however, did not take to Hudson's mother particularly well, as within three years of seeking new employment wherever she could, she contracted smallpox and passed away, leaving her daughter to wander, reclusive and without aim. Like many in such strife-ridden times, Hudson took to stealing in order to survive. Already lacking in social qualities, she adopted a solitary lifestyle for the most part, living purely for herself and avoiding contact with others - a trend she would not break until years later in her life once she finally began to socialize with others.
At the age of nineteen, Hudson became first aware of her powers as a Witch. Upon being cornered by 'fellow knights of the cross-trade' seeking to relieve her of hard-earned coin and supplies, Hudson was beset by them and, in a spur of survival instinct, materialized replicates of their own weapons, and killed them. Upon the realization of being wholly different from others, Hudson fled Marseilles and sought to follow her birth-father to Britain. However, once having crossed the channel, she would find herself lost in a foreign country without anywhere to go, instead falling back into old thieving habits to survive. By the time that she had gathered enough finances to eventually trace her father's location, he had already departed to fight on the colonies, never to be seen again.
Completely alone and without knowledge of the source of her magic, Hudson took to wandering Europe in search of answers on her own, refining the blunted edge of her talents whilst doing so. Eventually, at least, she was discovered by the Coven and made aware of her nature as a Witch. For a few decades, Hudson remained in contact with the other Witches, whilst wandering the Middle-East on the rare chance of finding news of her father, still seeking answers to her heritage, but to no avail. During these travels she grew fond of the architecture and historical relevance of cultural art, her enthused interest in mythology also contributing to this.
It was during this time that she began to notice a relative difference between herself and other Witches, notably in regards to causing mayhem and destruction. Whilst her own magic could be used to destroy, it was not its sole purpose and aspect, as opposed to the pure destructive force of other Witches. With time, this difference began to grate on Hudson more and more, culminating with Hudson's return to France during the French Revolution. While the anarchy and conflict there delighted other Witches, Hudson found that she did not share this sentiment, beginning to understand the difference between herself and the Coven.
Deciding once again that she was different, even amongst Witches, Hudson cut ties (violently) with the Coven while in London on the spring of 1803, following the developing conflict between Britain and France that lead to the Napoleonic wars, having grown disillusioned with the fascination and eagerness of the Coven to see humans kill each other and hurry to their deaths. Aware that declaring herself independent in this manner would set her at odds with other Witches, Hudson fled to the American continents to put distance between herself and the Witches situated in Europe.
For a while, Hudson travelled cross-country, keeping out of plain sight whilst beginning to socialize more with normal humans, both as a means to survive, and generally not to go completely insane from lack of contact. This was the start of her cover as an art historian, making use of it as a means to earn money and travel from place to place with minimal questions asked. However, Witches weren't the only threat to Hudson's safety, as while in Manhattan she was cornered by a Meister and its Weapon, having barely managed to kill the Meister but being forced to escape rather than deal with the Weapon.
When the American Civil War struck, Hudson headed further south to Brazil in order to elude the likelihood of Witches being present. Lingering there for another decade or two, she eventually returned to Britain in the early 1880's, taking the long route west to India and then through Europe, finally settling down in London during the latter years of 1890. By now, Hudson had styled herself in accordance to her new lifestyle, possibly even preferring her cover as an art historian if it wasn't for the constant reminder that she was different.
The turn of the 20th century was a time of change on many fronts. During the beginning of the First World War, Hudson once again skipped the country, heading to the Spain in hopes of finding a country that remained neutral during the conflict. From there she continued to stay mobile, aware of the appeal the Wars would have to the Coven and how the presence of Witches would draw the Meisters and Weapons into the fray. Eventually, though (and with minimal near-encounters with her enemies), the world calmed down at long last.
In 1980, Hudson returned to Marseilles for the first time in over two centuries. Having established herself a sizable fund from her travels and work, both legitimate and otherwise, she purchased an apartment in one of the older buildings by the ocean, and eventually began to call it home, having been away from such a place for twice the lifetime of a normal person. Since that time, she continued living her life very much in the same cover of obscurity as before, keeping a low profile and working from beneath the guise of her cover, making sure to never establish close contact with others at the risk of them realizing she doesn't age like humans do.
To date, she still remains in the same apartment, occasionally travelling outside of France on business and 'personal errands'.