Post by Geno Garon on May 31, 2011 17:02:23 GMT -5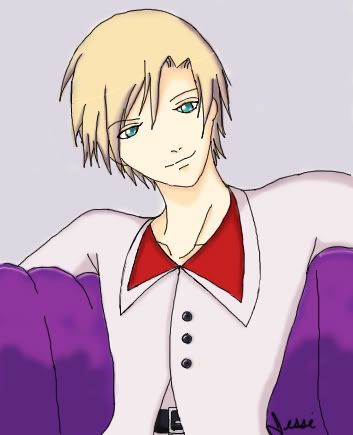 *Custom Art by Rei Inari*
Main Username:
Geno Garon
Name:
Geno Garon
Race:
Human
Class:
Other (no explanation, umad?)
Advanced Class:
Other (u jelly?)
Nickname:
None currently
Age:
Mid Twenties (specific unknown)
Gender:
Male
Height:
6'1"
Weight:
155lbs
Type:
Human*
Current Partner:
Rei Inari
Picture:
Full Length shot in progress
Other images:
Geno and Artemis
sketch by
Britt/Nova
Geno in his SoulScape
by
Britt/Nova
Chibi Geno
by
Rei Inari
Diary:
The Diary of Geno Garon
CHARACTER THEME PAGE
More Exhaustive Info:
Super Long Character Question Sheet
Appearance:
Geno has medium length blonde hair that occasionally flairs out at the sides somewhat instead of laying straight. His eyes are always blue, but somehow seem to change shades at times from a light, icy blue to a deep sea blue. Whether this is because of ambient lighting or his mood has been debated often by those who notice it, though it is not so dramatic as to stand out. Given his height and weight, Geno is rather slender, and sports little to no noticeable facial or body hair. He is usually dressed well, wearing a white, semi-formal/semi-casual outfit of some kind, most often a white button-up shirt with the top button or two undone, and a matching pair of white slacks. To compliment, he usually dons a few colorful add-ons, such as an ascot, a pair of sunglasses, or other mis-matched trinkets. His taste in clothing might be labeled by some as eccentric, but it's really more likely that Geno has terrible taste in fashion. Over top of all this, he has his signature white trenchcoat, longer in the back than in the front, with slits up the sides that allow access to pockets or weapons close to his belt. The trenchcoat is lined with red satin, and has a larger and more elaborate double-collar that also displays the velvet red.
Personality:
Geno's jovial and high-spirited attitudes can brighten even the most sour of faces, if only for a moment. He is far more willing to provide with a well-deserved compliment than a taunt. While he is quite up-beat, when things get serious, so does Geno. The smile will disappear, and he will get down to business, but will still crack a smirk in the heat of battle, given a good reason. Geno is fiercely loyal to his friends, living by a personal mantra that, in order to save a friend, Geno will do whatever it takes, be it evil, illegal, or otherwise, to make sure they are safe.
Geno, being in his mid twenties and relatively attractive, has found the pursuits of the flesh to be interesting to him, and while not actively chasing skirts, has taken it upon himself to "entertain" the handful of women whom he always seems to attract wherever he goes. While by no means a sex symbol, Geno has a type of gentle magnetism about him that allows people to at the very least trust Geno quickly and with ease. This often leads to more amorous encounters than is the norm, though Geno isn't entirely sure whether it is his personality, or his money, that seems so attractive to most of the women he encounters.
Geno comes from a long line of family money. Though not personally rich, Geno has grown up never needing for anything, and often having just a bit more cash at hand than he knows what to do with. It was with this in mind that Geno first visited Las Vegas, hoping to find something his money could buy that wasn't a true waste (as Geno also has a fairly pragmatic side), but would bring him the excitement he was looking for. Or maybe it was a bachelor party for someone. The truth of the matter has been lost, for now.*
Fighting Style:
Geno has done all the fight training the moderately rich find entertaining; fencing, boxing, judo, skeet and target shooting, but has never trained professionally. That being said, Geno has found that the few times he has gotten into scuffles, whether with his trainers or a thug attempting to hold him at knife-point (it's a long story) Geno has relied on superior flexibility and dexterity over stamina or strength. Though he cannot do so for the whole mile, Geno is capable of sprinting quite quickly, on par with most college track runners. It is likely this speed and agility that he will use in combat, though his true potential is still quite the mystery.*
Abilities:
Meister-style Agility
Character Name(s): Geno Garon

Name: Meister Agility

Type: Technique

Class: Low

Description: Geno gains the ability to use his Soul Wavelength in ways a typical Meister might, to run at superhuman speeds, jump several stories high, and land from such a jump without sustaining damage. For reference, consider Maka or Kid doing how they do.

Strengths: Improved method of transit, useful in combat to avoid damage and escape threats.

Weaknesses: None really, unless you consider this is Geno's ONLY method in which to defend himself from any of the characters or enemies on this site, in which case, the weakness would be: piss-poor ability to defeat enemies with just this.

Resonances:
None
Special Notes:
*Geno's back story is currently under partial lock-down, given the way he is entering the story. Though I have gone into more detail in the history and RP sample, Geno has been involved in a one car crash on the outskirts of Death City. Geno is uninjured in the crash, but he is suffering from amnesia, which is hard to explain with just the crash alone. He is also missing any personal possessions which would outright tell him his identity (his wallet is gone and the vehicle papers in his glove box are missing, cell phone is no where to be found), though he does have possession of several things that hint to what has transpired in the past 24 hours. Through story, his origins and identity beyond his name will be revealed, and he may even begin to develop soul powers, but as of right now, he's just your average kinda-hot upper-middle-class mid-twenties suburban white guy. With amnesia. And a headache.
Geno has bits of his profile which are certainly considered non-standard. This is a character-in-development, and will evolve through story telling.Equipment:
9mm Glock pistol, lots of cash
Loyalty:
200%
Key Attributes:
Thin, Agile, Fast, Charismatic, Intelligent, Versatile, Improvisational, Frail, Weak, Shortwinded
Likes:
Women, fast cars, finding good ways to spend his money, true friends, the occasional sniper rifle at the firing range, writing his thoughts in a journal, cocktailcrafting.
Dislikes:
People chasing his money, yes-men, wasting money frivolously, losing at fencing, being teased, dirty fighting to win
Strengths:
Quite charismatic, diplomatic, adept with most modern firearms (use and maintenance),
has excellent (but not superhuman) speed and agility
,
learns his opponent's techniques and battle strategies quickly
, owns a bitchin' Convertible
Weaknesses:
wrecked his Convertible, has amnesia concerning everything prior to his entry to Death City,
Physically Weak
,
Poor Endurance
, and
Lack of StaminaHobbies:
Sports shooting (pistol, rifle, shotgun), fencing, chess, writing, the occasional womanizing if the opportunity presents itself, singing (he's actually quite good) horseback riding (he's no good, falls off at least once every time), cocktailcrafting.
History:
currently unknown (
OHSHI) **History strikeout'd below: DO NOT SPOIL. Also, history is currently abridged, will have back story posts that add details as they become plot-important. Again, Geno does not have hidden soul powers or divine ancestry, his power level is not secretly over 9000, and is in fact probably not over 9. Details hidden from history are for use as plot elements only, and all power changes for this character will be thoroughly developed in the plot beforehand**
Geno was born and raised in a very affluent home. The Garon family not only holds military arms contracts with several national governments, but owns umbrella corporations that cover nearly every market of manufactured consumer goods. Their influence and affluence has led them to larger pursuits than just business, partially out of boredom, and partially out of the intrigue associated with dealing with multiple governments. Eventually, the Garon family themselves began taking on the dirty businesses of power, using corrupt public figures, elements of the mob, and even hit-men and bought-off police as pawns to increase their influence and give them greater control of the world around them.

Geno is one of four children born to Maximus and Theresa Garon twenty-four years ago. While the older two sons were trained in the family business(es), and the youngest, being a girl, was pampered and spoiled rotten, Geno's upbringing was left mostly in the hands of his family tutor, whom everyone called "Artemis". Geno suspected that this was not her real name, but never found out for sure. Artemis carefully steered Geno away from giving it to the greed and corruption of his family, but taught him also to fake it if need-be, in case his father or one of his associates ever needed to "assess his loyalties". Eventually, however, those connected to the Garon family began to suspect Artemis of turning young Geno against them.

During a trip to Las Vegas, Geno was confronted by Artemis, who looked disheveled and scared to death. Artemis begged Geno to trust her, then demanded that he leave his wallet and any personal identity papers with her, as Artemis assured Geno they had tracking devices inside them all. She then provided Geno with a new Corvette Convertible and told him to drive east, and that someone would meet him along the road. Though Geno was utterly confused, he obliged his old mentor and friend, and sped off.

Geno had not gotten far before he saw something chasing him in his rear view mirror. What Geno could only describe as an enormous moth came charging after him. After several near misses with the creature, Geno saw Death City on the horizon and gunned it, hoping to find sanctuary. Right before he reached the town limits, the creature latched onto his car and stabbed him in the shoulder with its long, needle-like proboscis. Stunned and horrified, Geno could only watch in his mirror as the creature began to draw a gray, glowing energy from his back. Suddenly and without warning, the creature released him and disappeared from view, and as Geno's world spun into catatonic darkness and he reached desperately to try and shift his foot from the gas to the brake, all he could see in front of him was his speedometer reading ninety-five MPH, and the side of a small building that he would never be able to avoid.
RP Sample:
"Uuuuuggh..."
His head rolled back into the leather seat behind him. The throbbing... it just wouldn't stop. Something was in his lap, but he didn't dare open his eyes yet, for fear they might cause his headache to grow worse. As he grasped the object in front of him and tried to pull it to his left, he could tell it was securely attached to something behind it, and he heard the tinkling of falling pieces of glass. He dared to crack open one eye, and saw his hands wrapped around the airbag, with bits of the shatter-resistant windshield sprinkled across it like Rainbow Jimmies on an ice cream cone. He struggled with the airbag a moment, but his headache had grown to a sear now, and something was causing his right arm to feel... funny... somehow. He feared the worst, and as he reached back with his left arm to feel his right shoulder, he expected to pull away with blood or feel some large piece of metal jutting out from his shoulder. Instead, when he brought his hand back to his sight, a soft, colorless fire burnt in slow motion away from his fingers, and disappeared. Startled, he flicked his head around to try and see his shoulder, but the sudden movement caused his headache to become unbearable, and the world around him went white, then dark.
Seconds turned into minutes. A whisper in the distance. Vertigo. He no longer had a sense of time. His ears rang with that all-too-familiar high pitched tone, but finally, he recovered from his faint enough to return to the world around him. He felt something new; a hand, shaking his left shoulder. He turned, and saw the outline of someone, but could not make out who through the blur. They shook him again, and slowly his hearing returned.
"Are you alright? Hey, answer me!"
"Yes, uhh... I think I'm alright..." he said with a shaky and unsteady voice.
"Well that's good. I've never seen you around before, who are you?"
He stared back at the figure, still unable to determine even their gender. He thought. A perplexed look settled on his face as he returned his gaze forward again.
"I... I don't know."